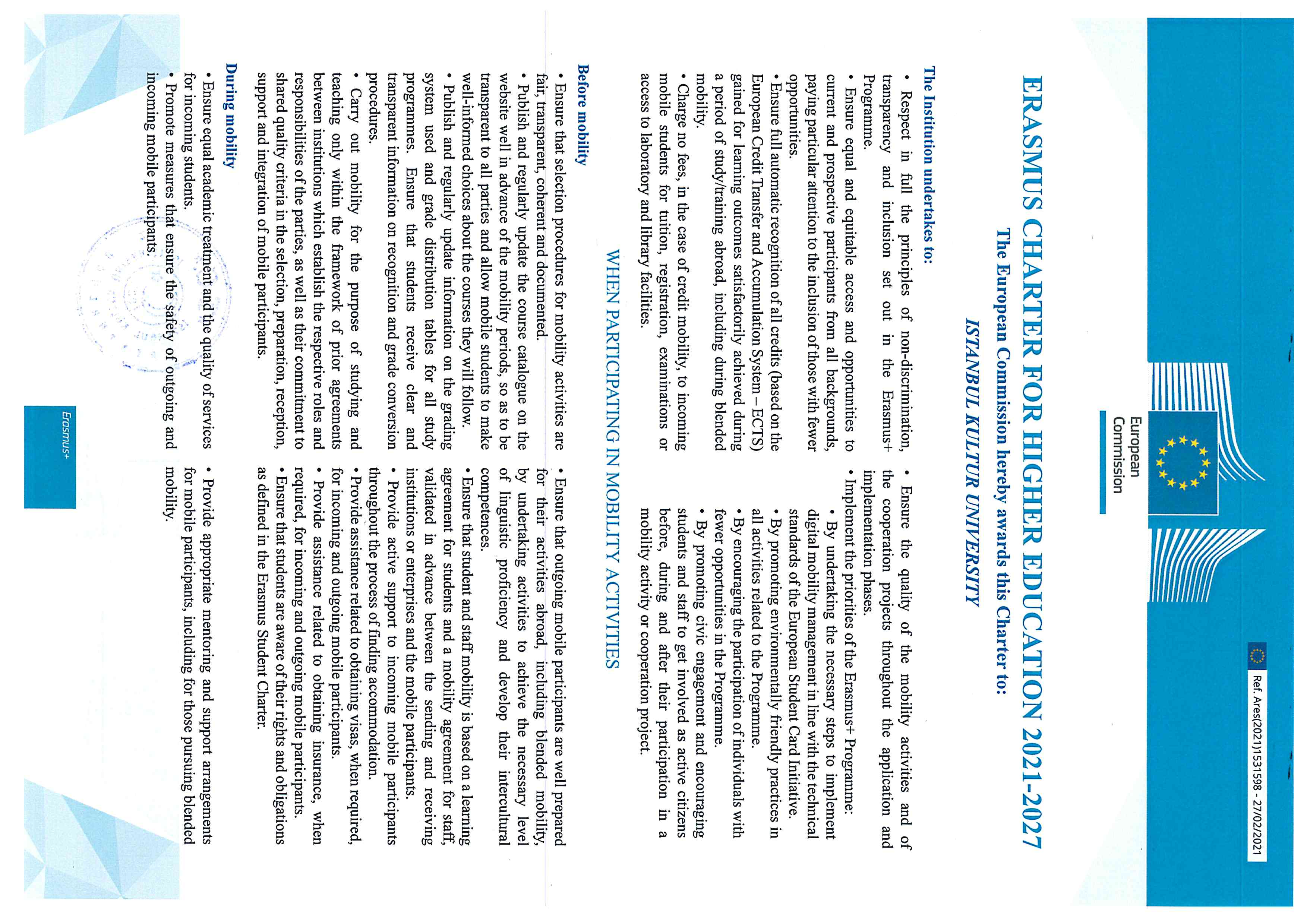 ISTANBUL KÜLTÜR UNIVERSITY ERASMUS POLICY STATEMENT
Istanbul Kültür University (IKU) identifies a sustainable structure to achieve its target of modernization through internationalization and ranks its objectives as follows; to increase the quality of education and training, to produce scientific research and publication based information as following international researches, innovative entrepreneurial university, improving social integration through international projects and similar practices, to contribute to country targets on a global basis by strengthening internationalization. Internationalization and modernization form integrity and IKU participates in the Erasmus + Programme as the most effective support to achieve this target. In the constantly changing and developing world, all partners aim to reach the best quality and effective education system. As a higher education institution, IKU always follows the current curricula and aims to reach the best quality education system. As part of the changing and developing world, IKU aims to recognize the qualifications in higher education across the EU by experiencing each innovation in its field.

IKU offers a strategic plan that focuses on functional, current developments and is sensitive to all concerned. It aims international competitiveness and visibility by targeting modernization and internationalization of the university as a whole curriculum, courses, students, staff, projects, and research reach. In a globalized world, As IKU, while adopting innovation and entrepreneurship as a principle in every field that we provide education, increasing the recognition and competitiveness of our university in the international arena is the primary target of our internationalization strategy. In line with this goal, it is aimed to ensure that our students are individuals with all the competencies and at least one foreign language knowledge required by the current job market and to increase the institutional cooperation of our university, and the preference of international students and staff. Another issue that is given priority is to diversify the partnership network of our university. Institutional research and development strategies at IKU started with the establishment of the R&D Center in 1997, the university's founding year. R&D activities are carried out in different disciplines in international relations, entrepreneurship, and project management. IKU is restructured as Technology and Project Support Unit to produce national and international research and projects such as Project Development, Scientific Research Projects, and Incubation Center, and our university continues its efforts to climb to the top in the innovative and entrepreneurial university index.

Bologna Process and EU Education Programs are considered as anchoring powers of the EU Programs to motivate IKU to continue improving quality in education, research, and cooperation. In line with the goal of internationalization and modernization in higher education, IKU aims to participate in the three Key Actions of the Erasmus Programme in 2021-2027. Internationalization and modernization strategies of IKU directly comply with Erasmus+ Programmes and provide opportunities for the realization of the targets.

According to IKU, regardless of socio-economic background, everyone should be able to access high-quality education and equal opportunities for education should be created for each student, so it is working to make education abroad an accessible norm rather than an inaccessible goal. The current active vision of the European Education Area and the fact that European funds support this main purpose create a unique opportunity for IKU. IKU aims to equip its students with the basic knowledge and scientific perspective of related fields and to have an education system that will educate them as experts with the scientific formation that can analytically grasp and interpret current international developments. Thus, it aims to raise qualified people who will work in the public and private sectors in our country and increase the number of graduates who will take part in the relevant sectors, and take place in the prestigious indices in Europe. IKU believes that education should be carried out as a versatile and flexible process, according to the intelligence and learning abilities of students, as well as their personal and social needs. It is open to different views, opinions, and evaluations on any matter. It possesses the understanding to listen to opposing views and criticize them in a democratic manner. Mobilities under the Erasmus+ Programme will be encouraged IKU students' civic engagement and being active citizens. With the support of the Erasmus+ Programme, IKU aims to eliminate cultural, social, and racial differences and to break down prejudices by increasing communication and interaction between individuals. As a higher education institution with social responsibilities, IKU will create opportunities to increase awareness, and respect for cultural differences in society. One individual will create awareness of many individuals. While students and staff who gain international experience contribute to IKU's internationalization goals in the long term, educated individuals who are involved in efficient education in the country will increase the intellectual and literate level of the society. Individuals who respect rights and freedoms will reinforce the welfare of societies.

The basic principle of education is to keep it at the center in all activities, to accept a single and special "individual" with rights and duties, to act with the principle of "serving the student" at all times, to show preconditioned love, without prejudice. In this context, IKU manages all Erasmus + Programme promotion, application, and selection processes completely transparently and equally. IKU aims that every student and staff at IKU apply to the Erasmus+ Programme.

IKU has 280 inter-institutional Erasmus Agreements with 129 universities located in 27 different EU countries and has 65 international inter-institutional agreements in 26 different Non-EU countries. Within the framework of the Erasmus Programme, IKU plans to collaborate with higher education institutions in more EU countries. Thus, it will be ensured that every individual from every academic department and unit at IKU can actively benefit from mobility. For this reason, as an active participant of the European Education Area, IKU attaches great importance to EU collaborations.

IKU emphasizes that achieving internationalization and modernization in the targeted education will be possible as part of a more inclusive education system advocating common values. In this framework, youth, education and culture form a whole and embody the strategies. For IKU, it will be possible with the Erasmus Programme to increase the quality of education and to have successful education experience abroad and the employment area will expand in the long term and economic growth will be encouraged as a country. IKU believes in the power of education for the harmony of economic growth and advanced social structure and aims to play an active role in this goal. This process covering the years In line with the Bologna Process, IKU re-evaluated all the program competencies and learning outcomes as well as the courses in cooperation with stakeholders to increase the quality in HE, the graduate employment rate and provide its graduates access to high-level occupations. In this context, IKU also aims to further its cooperation with the non-HEI institutions and form close ties with key stakeholders and continue internationalising / developing its curriculum, research and education. A wide range of the partners is aimed to sustain to provide the most effective inclusion of all relevant parties for achieving diversity. IKU aspires to develop new partnerships word-wide and to strengthen already existing ones. IKU has established many collaborations and realized its projects in Europe, USA, Africa, Australia, South America, Central Asia and Asia Pacific in its target between 2014-2020; In the new period, it aims to reach more countries and institutions in the mentioned regions. Thus, IKU may interact with all levels of society and contribute to probation, analyze, and form more strong partnerships to produce knowledge and know-how for the needs of society.
IKU emphasizes the use of new and contemporary technologies in education and views them as an effective learning tool. It takes care to ensure that technology is intertwined with a solid culture, philosophy and ethics; it does not turn technology into a myth by glorifying it alone; it views technology more as a means of reaching its vision and mission; it considers technology to be a starting point for change, transformation, and even for finding new technologies. It is thought that digitalization and virtual support will be an increasingly new technique in Erasmus's actions. Digitalization in education is expected to be more active, fast, accessible, and environmentally friendly. IKU plans to achieve modernization through internationalization. For this reason, IKU will be able to closely participate, observe, and apply to any innovation that will take place within the framework of the Erasmus+ Programme. As a result of the ongoing technological developments and changes all over the world, IKU aims to develop the digital skills of both its students and administrative and academic staff. IKU plans to expand and sustain the knowledge and experience gained through the mobility activities in the framework of the Erasmus+ Programme under the roof of higher education institutions in line with common interests. Thus, mobility will not only affect participants, but shared knowledge and experience will be concrete and sustainable for everyone. Knowledge, experience, observation, projects will be implemented, and the best quality and functional methods will be implemented in education. Moreover, IKU will support youth and professionals in academic fields to contribute to the welfare of the European Education Area and to strengthen the country's internationalization goals. Creating employment, identity diversity on campuses, economic growth, social cohesion in the light of education will be possible for each participant by making use of the constructive potential of the cultures, which are the common goals of IKU and the European Education Area.

Strategic partnership is one of IKU's priorities in order to strengthen the cooperation between universities, research centers and industry/business world at local, national and international levels. IKU has strong cooperations with public and private bodies such as Supreme Court of Germany, Turkish Employment Organisation, Small and Medium Enterprises Development Organization in Turkey, BUSINET, Scientific and Technological Research Center of Turkey (TUBITAK), municipalities, NGOs and SMEs, chambers of commerce-industry, private enterprises such as Microsoft, Cisco, libraries, museums, art galleries, etc. IKU also plans to enhance its ties with enterprises for qualified traineeship opportunities for its students.