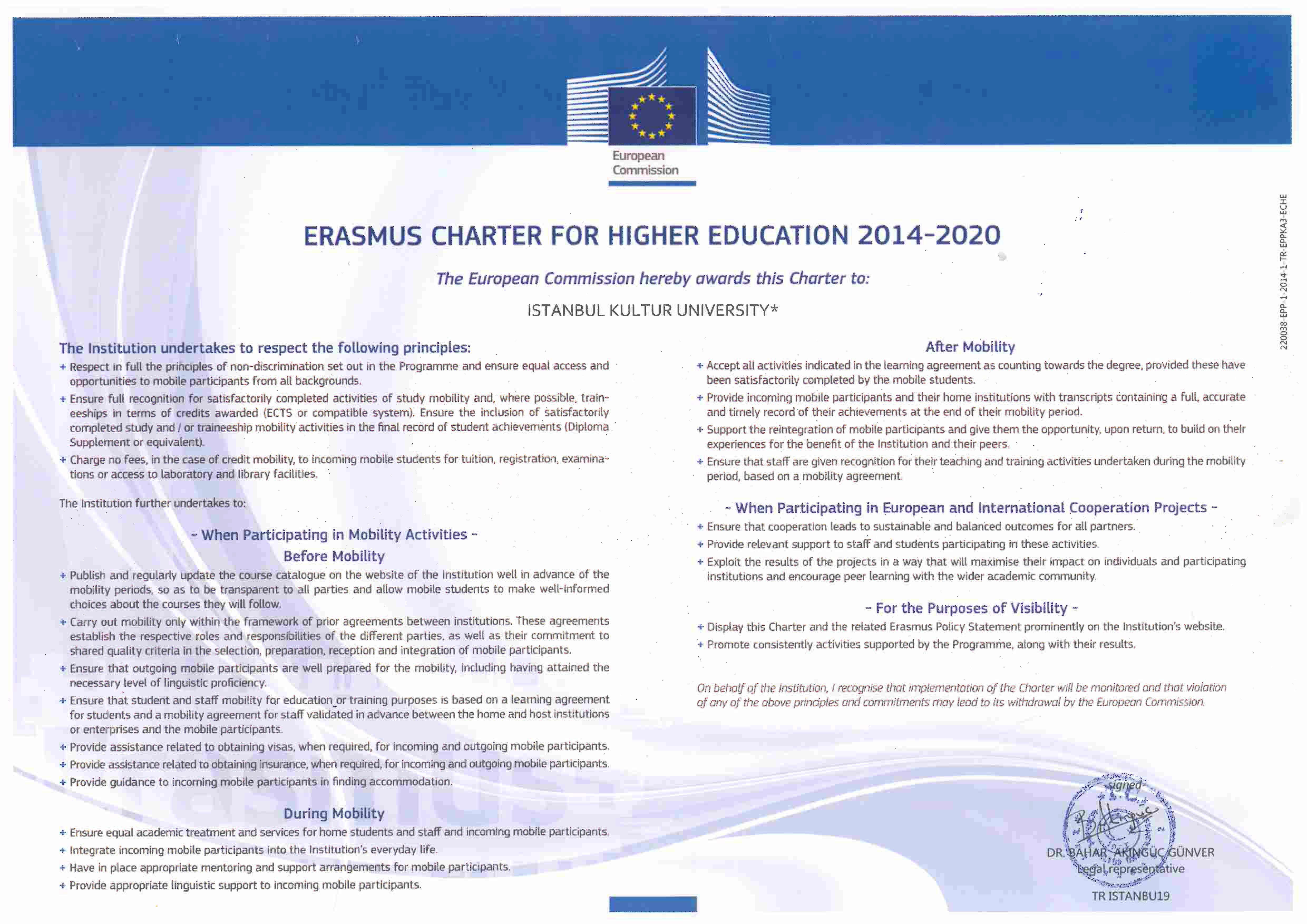 ISTANBUL KÜLTÜR UNIVERSITY ERASMUS POLICY STATEMENT
Please describe your institutions' international (EU and Non-EU) strategy. In your description please explain a) how you choose your partners b) in which geographical area(s) and c) the most important objectives and target groups of your mobility activities (with regard to staff and students in first, second and third cycles, including study and training, and short cycles). If applicable, also explain how your institution participates in the development of double/multiple/joint degrees. (max. 5000 characters)
IKU aims international competitiveness and visibility by targeting internationalisation of the university as whole; curriculum, courses, students, staff, projects and research reach. In a globalised world, one of IKU's main aims is to prepare its graduates equiped with the competencies to compete and face the challanges/sees opportunities in the international arena.
In line with the Bologna Process, IKU re-evaluated all the program competencies and learning outcomes as well as the courses in cooperation with stakeholders to increase the quality in HE, the graduate employment rate and provide its graduates access to high-level occupations. In this context, IKU also aims to further its cooperation with the non-HEI institutions and form close ties with key stakeholders and continue internationalising / developing its curriculum, research and education.
IKU aspires to develope new partnerships word-wide and to strenghten the allready existing ones (200 inter-institutional Erasmus Agreements with 98 universities located in 22 different countries; 25 international inter-institutional agreements). Regions such as Europe, USA, AsiaPacific is with in the short term targets of IKU and partnerships with institutions located in Central Asia, Russia and Africa will also be targeted in the new future.
In the development of double/multiple/joint degrees, after agreed in principle to cooperate, firstly the compatibility of the courses is checked to see if institutions can mutually accreditate each others' programs. The recognition of the relevant institution's degree by the Higher Education Board is also a crucial for students.  After initial memorandum of understanding, when both instutions agreed on the details the final version of the inter-institutional agreement is signed.
IKU, for the intiation of a partnership for mobility the compatibility of study areas as well as the courses provided are firstly taken into consideration. Though it is not a criteria in itself, the language of instruction is prefered to be one of the widely spoken languages. Last but not least, mutual trust and understanding is considered as a sine qua non for a successful partnership. Institutional priorities with regards to research areas and student preferences are also taken in to consideration when building up new partnerships both for mobility and projects (international teaching, curriculum develpment, research..etc).
IKU aims to increase international awareness/competences of all its' students and staff. Expanding the participation of its students and staff's involvement in mobilities is considered as crucial tool to this end. In this context students of all cycles are given a higher priority. IKU as an accessible university, aims to remove the barriers on the participation of its' disadvantaged and disabled students in mobility.
There are around 300 enrolled full-time international students from 50 different countries. With the aim of being one of premier destionation for research and development, IKU aims to attract students and researchers from all around the world.
Mobility of the academic and administrative staff which is considered as an important channel for transfer of good practices and innovation and building international competences and continious professional development. Considering low participation rates, removing the obstactes on the administrative staff's participation in mobility programs is also targetted. Besides, acknowledging the fact that HE largely depends on the competence of faculty members, expanding their participation is also a priority. To expand the mobility numbers, various foreign language courses are planned to be offered both for the students and staff.
Strategic partnership is one of IKU's priorities in order to strengthen the cooperation between universities, research centers and industry/business world at local, national and international levels. IKU has strong cooperations with public and private bodies such as Supreme Court of Germany, Turkish Employment Organisation, Small and Medium Enterprises Development Organization in Turkey, BUSINET, Scientific and Technological Research Center of Turkey (TUBITAK), municipalities, NGOs and SMEs, chambers of commerce-industry, private enterprises such as Microsoft, Cisco, libraries, museums, art galleries, etc. IKU also plans to enhance its ties with enterprises for qualified traineeship opportunities for its students.
A wide range of the partners is aimed to sustain to provide the most effective inclusion of all relevant parties for achiving diversity. Thus, IKU may interact with all levels of soceity and contribute to probation, analyse and form more strong partnerships to produce knowledge and know-how for needs of society.
With the aim to set intense and solid strategic partnerships and objectives, IKU has formed a Strategic Planning Commission in 2009, which charged with maintaining status analysis, workshops for SWOT, Mission-Vision and costing.
Regarding knowledge alliances, IKU intends to establish an incubation center to engage academic and business cooperations, through which innovative research and entrepreneurship will be encouraged.
If applicable, please describe your institution's strategy for the organisation and implementation of international (EU and non-EU) cooperation projects in teaching and training in relation to projects implemented under the Programme. (2000 characters)
The Project Coordination Unit (which will soon be established) will be responsible from promotion, development of the projects, giving administrative support upon request and the dissemination of the previous project results, search for further funding opportunities. This unit will also monitor the implementation the projects in accordance with the international ethics standards and social responsibility, as well as the European Convention on Human Rights.
Academic Research Projects Units was also established to support small scale research projects (founded by IKU) which will pave the way for bigger scale international projects. In this context the university allocates a budget for this purpose.
A wide range of the partners from central/local level of authorities, enterprises and other HEIs is aimed not only to provide wide research reach, innovation but also to increase the relevance of HEI.
Involvement of not only staff but also students is given a high priority; especially under Erasmus Intensive Programs and Youth in Action. Thus, students will also be given support (mentoring, information sessions, support in implementation and dissemination) for all the actions of Erasmus Youth Participation Program by the Project Support Unit.
Apart from announcing the calls for proposals for projects and encouraging staff and students to produce and/or take part in those projects, EIC provides administrative and logistic support for organizing and implementation of their projects in terms of process of writing, establishing partnership or consortium, submitting, organizing activities, budgeting, reporting and recognizing the studies, if applicable. Those tasks will be transferred to the abovementioned Project Coordination Unit, later on.
International contact networks are given importance by IKU through being a member of many institutional partnership databases and participating to international fairs, in order to establish new partnerships except from the existing and solid ones.
Cooperation projects including teaching and training activities, organized by IKU, are awarded by IKU through a certificate for each participant, not necessarily recognized by national or international authorities.
Please explain the expected impact of your participation in the Programme on the modernisation of your institution (for each of the 5 priorities of the Modernisation Agenda2*) in terms of the policy objectives you intend to achieve. (max. 3000 characters)
Bologna Process and especially EU Education Program are considered as the anchoring power of the EU Programs to motivate IKU to continue improving quality in education, research and cooperation. Bologna Process also accelarated the national accreditation processes and at IKU 4 programs (Turkish Language and Literature, Pyschology, Molecular Biology and Genetics, Mathematics and Computer Science) of the Science and Letters Faculty as well as the Faculty of Architecture are accreditated.
High numbers of unemployed university graduates discourages people from applying and continuing their education. As a result of the Bologna Process -by increasing the relevance of HE- and international mobility -by increasing the competencies of the students in a globalised World-, graduates will have better access to jobs, specifically to high occupations, which in return will increase the attainment rates. Besides IKU is providing distance learning in MBA graduate program, to increase the attainment levels and help
Furthermore, mobility of students and staff; besides individual gains, are also considered as channels for the transfer of innovation, good practices and experience. It also provides an opportunity for the two institutions to interact efficiently and thereby to develop projects together. Furthermore, the training mobility to enterprises and teaching mobility from enterprises are providing  other channels for cooperation and thus act as channels to increase relevance  of higher education. The international work experince provided by the Erasmus Placement (Training Program), also helps IKU in its aim to have highly qualified graduates, on demand with international competencies. IKU also aims to at juxtaposing its highly successful and cultural and sportive activities with activities with exchange programs via Erasmus Higher Education, Erasmus Training and Erasmus Youth Participation.
Erasmus Youth Participation Programs is also planned to be utilized so as to fully equip graduates who are also active citizens with inter-cultural competencies. Students will be encouraged to use EUROPASS documents to have EU-wide valid proof of skills.
IKU also would like to extend the reach and capacity of the adult education training which is currently given by the Life Long Learning Application and Research Center of IKU. In this context, IKU would like to utilize the EU programs (Grundving, Leonardo …etc.) and projects. IKU aims at awarding ECVET to participants upon successful completion of trainings.
IKU would like to enhance its international agreements and make them as active as Erasmus agreements. In this context, IKU intents to utilize the Erasmus Mundus Program (Erasmus Higher Education) and  further develop its relations to form joint bachelor/graduate degrees worldwide.
IKU intends to increase awareness about European Integration and European Values/Citizenship studies, via Jean Monnet Modules and Chair based on previous experience carried out between 2005 -2011 on European Political Integration.
IKU pays attention to set the alliances up in order to engage new opportunities and facilities such as relevant workshops, studios and to develop new curricula and tailor made programs in relation with the needs of science and industry.